Is Your Driveway Gate in Good Condition?
03/19/2014
Back To Blog
There are various security structures and systems that you can get for your home and the driveway gate is certainly one of them. It is a solid barrier against thieves and vandals as well. Still, if it is not in good condition, the level of security can drop dramatically. You can fix driveway gate timely and prevent further trouble if you know how to inspect the structure.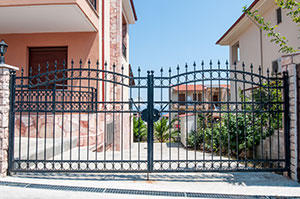 Proper Inspection Is Key
You should start the inspection from the panels and the posts, if any. Inspect the material for common signs of damage. In case of wood rotting, you will notice darker sports which produce a good number of splinters when touched and scraped gently. In the case of steel and wrought iron gates, you need to look for signs of oxidization and rust. Rusting typically occurs in places where moisture can remain for a long time.
The timely electric gate repair can save you quite a lot of money. That is why you need to pinpoint any issues on time. You have to inspect the metal parts for rust and loosening first. Take a closer look at the hinges if you have a swing gate. If you have a sliding model, you need to check the rollers and chain for signs of wear, tear and damage. You must repair broken driveway gate chain immediately to avoid further issues.
You need to inspect the motor as well. Make sure that you disconnect it from the power source first. If you notice any debris causing obstruction, you must remove them immediately. Check the swing gate safety loops sensors to ensure that they are in good condition as well. You should pay attention to the other major electrical components of the opener like the receiver, antenna and intercom.
If your inspection reveals any serious damage which is beyond basic troubleshooting, you can contact gate repair Tarzana to fix the problem.